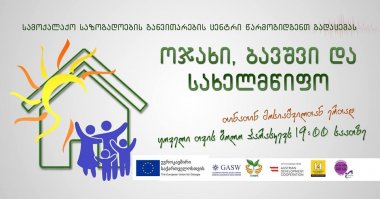 The guests of the program talked about the results of the survey conducted within the framework of the Civil Society Development Center project "Strengthening Families in Mtskheta-Mtianeti Region
What are the risks facing families in the region? What services and programs are there to help them? What recommendations have been developed based on research? Project Lawyer Archil Gorkhelashvili and Social Worker Maia Akhrakhadze talked about these issues. As usual, the program was hosted by journalist Tinatin Mosiashvili.
"As research has shown, the main problem that has been identified as a result of the research is the neglect of the child, which means that many families lack the ability to satisfy the basic needs of the child. It is easy to reveal these issues," said Maia Akhrakhadze.
"However, research suggests that as children with difficult situations are being diagnosed, the diagnosis of the family is the lowest among the relevant institutions from kindergartens. This may be due to the lack of access to preschool education, as well as with less information about specialists. More and more information from schools and outpatients enters the social service," continued Akhrakhadze.
Specialists need to be present as early as possible. According to Maia Akhrakhadze, the social worker is not meant to punish the parents or to bring the child out of the family, but on the contrary, try to help them. "The information about the referral mechanisms for educating the child involved in education is very important in the process of strengthening the families," says lawyer Archil Gorkhelashvili.
Specialists involved in the project talk about the problem of employment in all of Georgia and Mtskheta-Mtianeti region, too. In many cases, the existing social assistance system seeks to motivate a person, but then beneficiaries are tied to money and no longer seek employment. The existing social assistance can only be available. According to Gorkhelashvili, if a family member is temporarily or permanently employed, the family should be helped.
As a result of the research, recommendations have been developed that will be sent to the Ministry of Labor, Health and Social Affairs of the Ministry of Education and Science of the local self-government bodies.