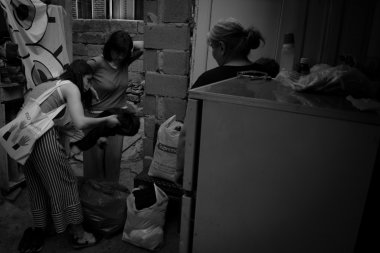 We bring to you expression from our intern who was in the field with us. Last week we visited single mothers as part of our campaign "Get Involved and engaged" More than 100 women and their families are already registered in our project. Each of them is forced to live in difficult social conditions. We are trying to help them with material aid and also to promote their integration in the labor market and society back. Tamuna shared her emotions with us after this visit. You can read more below.
This story is hard not only for the people I will tell about but also for the whole society, as the inaction of our society makes them vulnerable. They expect support and help from kind people and the purpose of this post is to bring this story to the hearts and minds of people!
I am thinking about this woman these days and I still wonder, some people have so few things in life that we can count them on our fingers. After the visit to this woman, I think I became "the happiest unhappy person" as Georgian writer Guram Dochanashvili would say. The courage and hope of this woman are still very impressive.
Neli is a 49 years old single mother; she has 2 children and three grandchildren. One of her grandchildren is just born, the middle is only 1 year old and the oldest is 10 years old and he lives with another family under the government program as their life is full of hard times. As Neli said her family is the only happiness in her life and everything else, suffer and pain she goes through, she overcomes thanks to her family.
She has to live in very extreme conditions, everything that she owns is a double bunk bed, a table and a wardrobe given all by some Americans, everything is located in a room that is only 10 square meters. Five people live in this tiny room and it is just very difficult to imagine that they live there for more than 14 years. Why do they have to go through it? Is it anybody's fault? Of people? Of ME? Of US? Of GOVERNMENT? Of WHO and WHO? I cannot find the answer, because maybe because of all. Her boy is only 14 years old and his eyes reflected his feelings: kindness and hope, at the same time sadness and disappointment, his eyes were telling I am a child and I need happiness, and joy of living, every single expression of sympathy is the whole world for them. I remember a question, is a 1000 Lari coins for the millionaire? Maybe yes, everyone has his own system of measurement, for this family sometimes even the slice of the bread can equal millions and billions. And WHY? I still do not have an answer. It is ironic that this family lives on Barnov Street behind the fashionable building, two extreme world lives next to each other, so close but isolated at the same time. Why? but this is a whole another issue and I won't discuss it here.
Neli has a hope to rent a new bigger flat with the help of the people and the government. She addressed the government many times and they promised to pay the rent for her but it takes time, at least two months. What we know is that she should change the flat soon and for that she needs some money to pay until the government starts paying for her.
They need us!! That's why you should get involved in our campaign and engage others to make a good impact on society. Seeing the smile on others' faces is the biggest happiness!