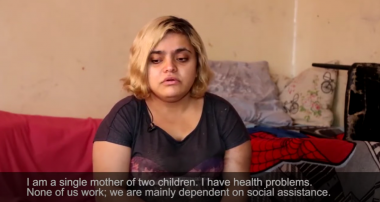 We share the story of a single mother raising 2 young children. Tamar has health problems, she relies only on social assistance and lives in extreme poverty with her children.
The video was prepared by the Civil Society Center (CSDC) as part of a project to support single and homeless women, with the consent and desire of the respondent.
The aim of the project is to help women with special needs living in Tbilisi, to introduce their needs and problems to the public. Anyone can help a woman with special needs and get involved in a fundraising campaign.
See the video below and get involved in the fundraising campaign, so we can help homeless women together.
For money donation here is the account number:
TBC Bank, Bank Code: TBCBGE22
Recipient Account GE93TB7620136080100007
Recipient Name "Civil Society Development Center" (CSDC)
Purpose: Campaign - Get involved and engage.
If you would like to see more videos, visit our Youtube channel,
visit our Youtube channel.