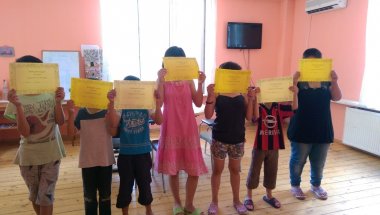 While all children are eagerly awaiting the summer holidays, there are no exceptions to the transitional program in
education
. This time, it is associated with adventures, making new friends, or having fun. The Civil Society Development Center (CSDC) offers a wide variety of educational, cognitive and entertaining activities for the Center's children.
Today's article is about Children and the Environment Center. Speaking to the children, we find that summer has been a very fun and exciting. They performed various cognitive, logical and thinking tasks both individually and in groups, though it is noteworthy that the classes were conducted in a very fun, informal setting and did not look like a busy learning process.
The children worked diligently in small groups to prepare group presentations with relevant illustrations on the biography / work of Akaki Tsereteli and Iakob Gogebashvili. They were tasked with chronologically arranging, transferring to a format sheet, formatting and presenting to their peers.
"Explain the Word" was a very interesting game - "This game was very interesting for me - I had a lot of fun with my friends and learned a lot of new words" - says a child and environmentalist.
At the center, the board game "Manager" is very popular. This is a Georgian version of the American game that promotes the development of analytical thinking in adolescents, the recognition of the units of money (100,500,1000,2000, etc.).
The children did not spare time for fun math and logic tasks. After the assignments, they prepared presentations and shared the results of their work. The winners were awarded the "Best Thinker" nomination.
The transitional program in
education
is implemented with the support of the Ministry of Education, Science, Culture and Sport of Georgia (CSDC).